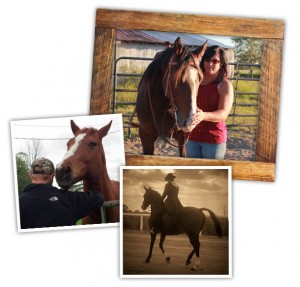 Amy has worked with our daughter, Jayda, for nearly four years. She has not only taught Jayda how to ride safely but also how to care for horses, responsibility, anatomy, listening and responding to the horse, and also the importance of your relationship with the horse. She has been an amazing teacher and role model for our daughter! We feel so blessed to have her in our lives and we are very thankful for everything she has done for Jayda.
~ Jessica in Marysville, Ohio
I purchased Rocky, a 10-year-old AQHA gelding, May 2012. I knew Rocky was green broke and spent most of his time as a pasture ornament. However, Rocky seemed calm enough that my oldest son and I thought we could finish him ourselves for trail riding. After a few months of no improvement, I became frustrated and actually started to dislike him. My farrier recommended Amy. I contacted Amy, and she came out to assess Rocky's training level and our training goals. Amy worked with Rocky that day, and I was amazed at the immediate change in his attitude. We decided she would come out once a week to work with us and Rocky. Amy gave my son and I training techniques to work with Rocky on our own, until the next session. She helped build our confidence in working with Rocky and get his attention. Before long, our relationship with Rocky changed for the better. My son and I started to enjoy Rocky. I recommend Amy because she made sure to involve us in Rocky's training, teach us techniques to improve our horsemanship, and together we gave Rocky a good foundation.
~Shannon in Bellefontaine, Ohio
Thanks Amy, you're a great trainer to work with:)
~Lane in Bellefontaine, Ohio
We had our 3 year old Quarter Horse gelding for about 8 months and he knew very little.  We were in bad need of a trainer and came across Amy online.  We contacted her and then went to see her where she works with the horses.  She really seemed to know what she was talking about.  We took our gelding, Shadow, to her for two months and then decided on a third month.  Amy did miracles with Shadow.  She taught him to stand for baths, accept having bug spray put on him, stand for having his feet cleaned and trimmed, and even to give his feet when asked. Amy trained Shadow to ride and showed us how to work with him.  She let us come to see how she was working with Shadow and then to ride him there, so she could help us learn his commands.  We could not have asked for Shadow to have better care while he was with Amy.  He followed her around like a puppy dog.  Amy emailed pictures to us and was continually letting us know how Shadow was doing.  Amy is absolutely marvelous and we would recommend her to anyone for horse training and/or riding lessons.  THANK YOU, AMY!!!  YOU ARE A JEWELL
.~Mike and Marcie in Oakwood, OH
My farrier told me about Amy when I asked him if he knew of any "good" trainers around the area. So she came highly recommended to us. I can't tell you how glad we were to bring Cherokee and Apachie over for Amy to work with. Cherokee is a lot of horse and Amy went right to work to get fantastic results. I know that Amy was blessed with the ability to train horses! It comes so natural to her. God definitely placed her here on this wonderful earth, to show us how to love our horses even more than we already did.
~Kathleen in Marion, Ohio
Amy is an amazing horse trainer. She came to my facility and observed my Morgan mare, Felicity, from right inside the stall. She pointed out little things that I could not see for myself. Amy is very successful with her training. After 3 lessons with Amy, I could not believe how much Felicity and I grew together. I would recommend Amy to anyone who is just starting out or starting over as I am. She is so helpful and doesn't judge the way you are doing things, but shows you an easier way to do them. Another wonderful thing I love about Amy is, if you can't get to Amy, she will come to you. There are not many trainers that will do that for you. Thanks so much Amy for all your help and patience.
~Sally in Alger, Ohio